graphic history about EXARCHEIA 1850-today
i made a copy now from the last side of the little anarchic book and i read there the dedication to some Rembetiko musicians. I thought the thread is talking about "outlaws".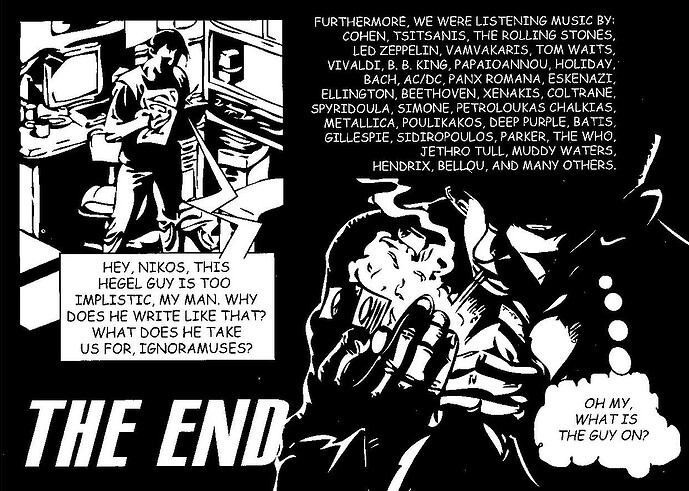 Hi Simon, That last paragraph encapsulates what I had in mind when I said in another thread
On the other hand, seeing Exarcheia primarily as an 'anarchist zone' would be the view of a moral panic inducing media frenzy that precedes a police operation

. I've only been as a visitor, but Exarcheia has been many things: a live music hotspot (An club etc.), a bookshop paradise, and other things you would expect from a neighbourhood close to university buildings.
Not only bookstores, but also other places related to the book: publishing houses, bindaries (?βιβλιοδετεία) etc.
And, to make a connection with the forum's topics, in Exarcheia there are also (unless things have changed in the recent years) many luthiers' worksops.
And many more. It's a neighbourhood with a lot of character and style, where you can find, in high density, many of the best things that can be found in Athens.
i found the famous Nikolas Bras at Exarcheia and bought a Baglamas and i found the big orange Petropoulos book for 40 Euro there. Very good taverns with food from Kreta (Oxo mou) and surprising grafities. My friend found some record stores with alternative music (Punk…) … the junkies were all at only one place together, all the other streets were "normal".
I like Exarcheia. It is no problem there to walk and buy and talk with people.
OK, excuse me for talking to you as if you were a tourist. You're very obviously not!